The South's Hidden Gem
Hikka Hill Loft
Work on a tan on the sunny terrace and stay cool on the shaded veranda connected to the bedroom. The individually controlled air conditioning ensures interior comfort throughout as well, while traditional artifacts add to the serene atmosphere.
This private, tropical luxury apartment is located in a quiet residential area in the beach resort of Hikkaduwa on the southwest coast of Sri Lanka.
Thilan is a hospitality specialist with years of industry experience, native in English and fluent German, an Airbnb Plus Host with a 100% response rate and 5-star reviews.
Thilan Demuni, your host.
Discover
Our Apartments
Located 1.5 km from Hikkaduwa Beach, Hikka Hill Loft provides accommodation with a shared lounge, a terrace and a 24-hour front desk for your convenience.
Two Bedrooms / Four Guests
HHL's Two-Bedroom Apartment (110 m²) includes a king-sized bed in each bedroom. The apartment includes:
Two separate bedrooms
Garden & City Views
Inner Courtyard View
Air Conditioning
Patio
Ensuite Bathroom
Flatscreen TV
Coffee Machine & Other Amenities
One Bedroom / Two Guests
HHL's One-Bedroom Apartment (60 m²) comes with one extra-large double bed and sleeps up to two guests. The apartment includes:
Balcony
Garden & City Views
Inner Courtyard View
Air Conditioning
Patio
Ensuite Bathroom
Flatscreen TV
Coffee Machine & Other Amenities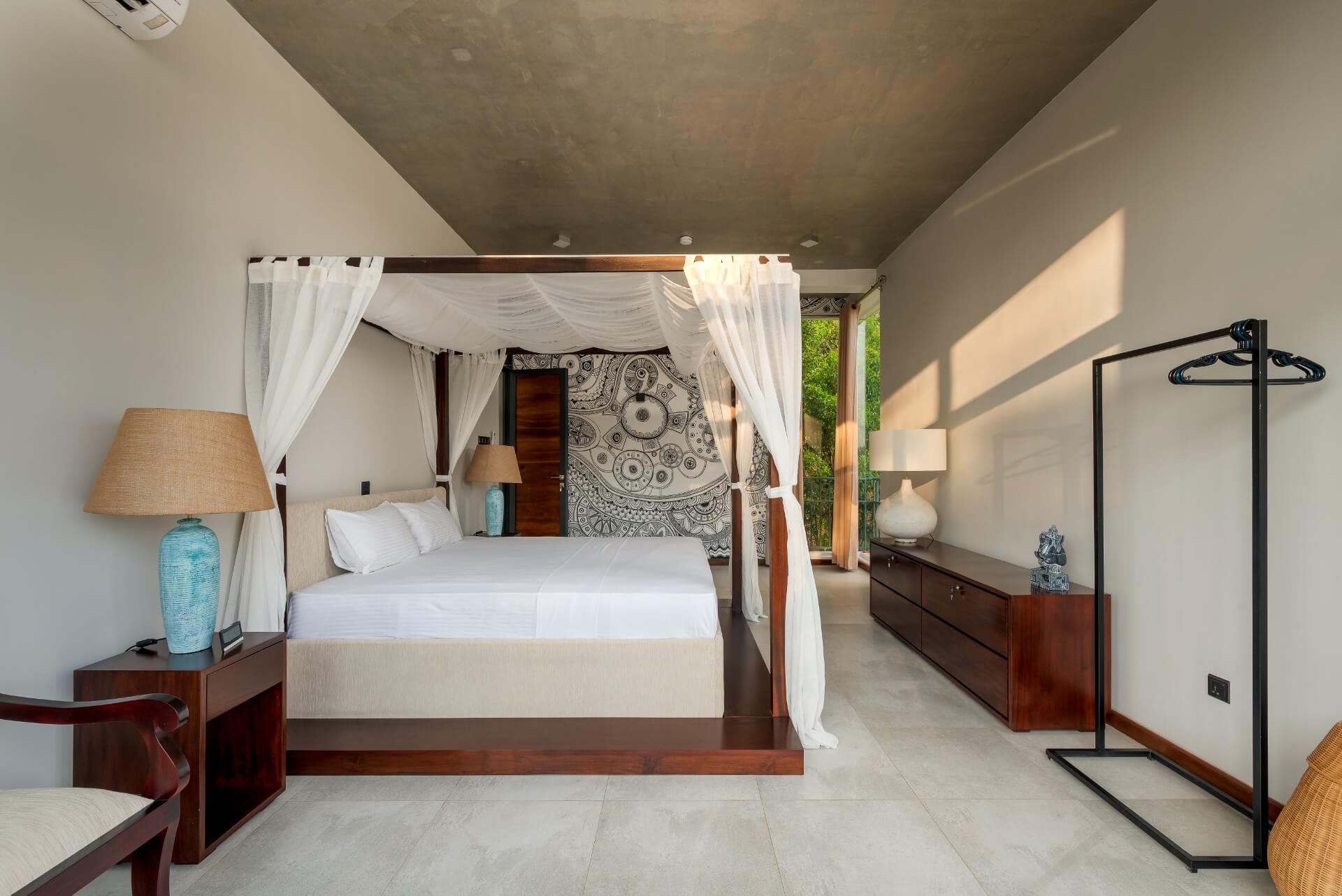 King-sized Beds
The king-size bedroom has a king-size bed. The apartment has individually controlled air conditioning. The bathroom and kitchen are fully equipped. Especially in the kitchen, we put great emphasis on high-quality appliances. On request, we also offer menus that are freshly prepared for you.
Living Area
You can choose between a sunny terrace or a shady veranda, which is directly connected to the bedroom. The high-speed wifi is available throughout the entire living and outdoor area. A 43-inch TV is available as well as an audio port where you can connect your devices.
Prime Location
The apartment is located 1 km from the town of Hikkaduwa. There you can shop and dine. Activities such as surfing, snorkeling, and diving; you can start from there. Or take a look at the Buddhist temple or the turtle farm.
Food & Drink
In-House Meal Service
Curious to taste the best Sri Lankan food Hikkaduwa has to offer? And the unique stories behind them? This full-immersion Sri Lankan experience will focus on Hikkaduwa's most iconic products (from seafood, home-grown vegetables, Rice & Curry and more) giving new blood to Sri Lankan cuisine.
Try Sri Lankan delicacies for breakfast including Fresh Fruit/Juice, Herbal Soup, Sri Lankan Milk Rice, Hoppers/String Hoppers, Coconut Sambal, Egg Rotti, White Fish Curry, Boiled Eggs, Seeni Sambal, Dhal Curry, Pancake/Halapa, Tea/Coffee/Milk or Western Breakfast.
Coffee, Tea, Water, & Assorted Beverages
Need a full refrigerator packaged with beverages before you arrive? We have your thirsty buds covered! Simply inquire with Thilan and he will make arrangements for you.  
Dinner Upon Request
Chow down on a plethora of home-made Sri Lankan cuisine or eat out at one of the many restaurants nearby.
HOLY MOLY! Best place we stayed during our 2-week trip in which we changed accommodation 5 times. This loft has everything you need and even if it doesn't have something (which is very unlikely), Thilan and his team is ready to provide you with anything you need. To the loft itself – it's a bit away from the busy and dirty streets of Hikkaduwa and it's set on a hill so you get a very good look over the palm trees. During sunrise (which you can see from the veranda) sometimes peacocks can fly over and sit on the porch. It's a huge place, very comfy, very good interior design, kitchen has everything for the guests to cook in, washing machine is available. It's basically a home. At least, I felt like I was home. Bathroom was clean and it had hot (like, proper hot) water (which is hard to find in the accommodations over Sri-Lanka). Thilan's team will clean up the apartment if you want every day without an extra cost. Also, it was my birthday when we arrived and Thilan brought a cake for me to celebrate. The cake was delicious (btw). I was very touched because it was an extra step for him and the team. Overall, if you're staying in Hikkaduwa, stay in the loft or the apartments below, they are worth every penny.

Cancellation Policy
100% charge on the reservation. If a cancellation must be made, Thilan must be notified 14 days prior to arrival, a full refund can be arranged. In a case of cancellation within 14 days or no show, payment will not be refunded.
We encourage you to write to us at reservation@hilkkahillloft.com if you have further inquiries with regard to your reservation.
House Rules
No parking on property

Must climb stairs

Surveillance or recording devices on property

 

– Überwachungs- oder Aufnahmegeräte auf dem Grundstück – Der Außenbereich ist mit Kameras zu Ihrer eigenen Sicherheit ausgestattet. Der komplette Innenr
General Rules
Not suitable for children and infants

No smoking
No pets
No parties or events
Have a Question?
Say hello or make an inquiry!
Information
Location & Nearby Attractions
Hikkaduwa is a seaside resort town in southwestern Sri Lanka. It's known for its strong surf and beaches, including palm-dotted Hikkaduwa Beach, lined with restaurants and bars. The shallow waters opposite Hikkaduwa Beach shelter the Hikkaduwa National Park, which is a coral sanctuary and home to marine turtles and exotic fish. Inland, Gangarama Maha Vihara is a Buddhist temple decorated with hand-painted murals.
Restaurants
Hikkaduwa is well known for its appetizing restaurants which makes the town a must-visit for anyone looking to enjoy a gastronomic experience.
Sightseeing
For most tourists, the main attraction of Hikkaduwa is its beaches. Indeed, besides the beaches, there is nothing interesting in the resort area of no. However, next to the resort there are many attractions that you can visit on your own in a rented transport, a tuk-tuk, bus. Go to places you can tour, because Hikkaduwa is one of the few places in Sri Lanka where you can buy cheap group tours, individual tours by tuk-tuk or rental car. Also offers excursions for a few days in Colombo to the mountainous part of Sri Lanka (Nuwara Eliya, Ella, Horton Plains and the end of the world, tea plantations, etc.), in the Cultural Triangle (Dambulla, Sigiriya, Polonnaruwa, Anuradhapura), national nature reserves.
Adventure
Hikkaduwa leaves no stone unturned to get the adrenaline rushing through those who love adventure. Along with many other activities in Hikkaduwa, there are enthralling activities that will excite you. These adventure activities in Hikkaduwa will leave you with a memorable experience. Choose to show off your fearless side by opting for the best of adventures in Hikkaduwa. Being a true adrenaline junkie, you possibly cannot miss out these Hikkaduwa adventurous activities. So, plan a trip to Hikkaduwa now and be ready to experience the ultimate rush.
Nightlife
While the number of restaurants and bars may seem sparse compared to larger cities, Hikkaduwa has plenty of excellent places to eat and drink. Regardless of whether you're travelling alone, with a large group, or you're on a family vacation, Hikkaduwa will provide everyone on your trip with more than enough places to eat, drink, and have fun.
Biking
Other than that in Hikkaduwa, there are wonderful things to explore in Hikkaduwa. You will cycle 12 Km towards the countryside and you may experience the traditional paddy field farmers, wood artwork craftsmen, Natural Moonstone mines and Cinnamon planters.
Airport Transfer/Adventure Trips
We offer luxury airport transfers, adventure, safari and sightseeing tours.
Please contact Thilan for more details.
Thilan was a wonderful host! He is kind, prompt and helped us with every aspect of our reservation and stay. Always went above and beyond to help our needs and recommend some great restaurants! His place is clean, well designed and spacious. There are many great coffee shops, restaurants and shops which are only a 10 minute tuk tuk away which was extremely easy to get! We wouldn't hesitate to stay at Thilan's home again. Thank you again Thilan you were the perfect host! And made our stay at Hikkaduwa very enjoyable.
Das Apartment war wunderschön. Viel Platz, Wunderschön, voll geschmackvolle klassische/ Moderne Einrichtung .Alles war sehr sauber und es gab durchdachte Annehmlichkeiten wie ein Delonghi Espresso machine einen Steckeradapter und viele Toilettenartikel. Unser Gastgeber, Thilan und Team , sorgte dafür, dass er in Kontakt blieb, obwohl er Ausland lebt . Als wir ankamen, gab es King coconut als willkommen Getränk und klein Geschenk oder ähnliches, Wasser Frische Obst Tee , Snacks usw. sie haben Bedenktag frische Blumen ins Zimmer gebracht. und wir haben ein paar Mal in der Küche gekocht, die gut gefüllt war mit wertvoll Equipments. Die Betten war wie im Himmel , sehr bequem, und groß. Schöne ruhige Balkone mit Blumen Topfen es gab aber sehr kleine Probleme mit der Nachbarschaft weil die am Hausbauen etwas laut tagsüber , aber nichts Besonderes. Bei unsere Ausreise bekomm wir schöne Haus geschenkt (wunderbaren Zimt verpackt mit viele liebe . Insgesamt war die Lage und die schöne Wohnung wunderbar. Einzigartiges Dekor, erstklassige Lage und unbezahlbarer Blick auf den Hikkaduwa Landschaft. Vielen Dank Thilan du bist tolle Gastgeber.
The apartment was beautiful. Plenty of space, beautiful, fully tasteful classic/modern furnishings. Everything was very clean and there were well-thought-out amenities such as a Delonghi espresso machine, a plug adapter and many toiletries. Our host, Thilan and team, made sure that he stayed in touch even though he lives abroad. When we arrived there was king coconut as a welcome drink and small gift or similar, water, fresh fruit tea, snacks, etc. They brought fresh flowers into the room on reflection. and we cooked a few times in the kitchen, which was well stocked with valuable equipment. The beds were like heaven, very comfortable, and big. Nice quiet balconies with flower pots but there were very small problems with the neighborhood because the house was a bit noisy during the day, but nothing special. When we left we got a beautiful house for free (wonderful cinnamon packed with lots of love. Overall, the location and the beautiful apartment were wonderful. Unique decor, first-class location and a priceless view of the Hikkaduwa landscape. Thank you very much Thilan you are a great host.
Гостили в этой вилле 2 ночи. Отличная планировка. Потрясающая терраса, где нам накрывали завтрак. Кондиционера в комнате с кроватью хватало на всю виллу. С утра нас свозили на рыбий рынок, где мы купили свежего тунца и креветок и далее их приготовили на полноценной кухне в вилле. Ванная комната с огромным душем. Ремонт очень свежий. До пляжа пешком 20 мин. Нам все понравилось и рекомендуем для проживания
We stayed in this villa for 2 nights. Great layout. Stunning terrace where we were served breakfast. The air conditioning in the room with the bed was enough for the whole villa. In the morning we were taken to the fish market, where we bought fresh tuna and shrimp and then cooked them in a full kitchen in the villa. Bathroom with a huge shower. The repair is very fresh. To the beach on foot 20 min. We liked everything and recommend for living.
!!Highly recommended!! The Hikka Hill Loft ist awesome! You have absolutely everything you need! The kitchen there has the best equipment I have ever seen (great Italian coffee machine, rice, different spices etc..). Further the loft has a amazing view over Hikkaduwa and the jungle! The loft ist just 1.4 km away from the main street of Hikkaduwa were you can find many shops, restaurants and of course the beach and still, the loft is very quiet and in a cute neighborhood. Thilan and his two staff members were very lovely and made us a wonderful time in the loft. We can highly recommend this place for a nice stay in Hikkaduwa!
This is new interesting place to stay in a residential area. The apartments are very elegant and stylishly furnished with precious furniture and household goods. Interesting design and a special atmosphere. There is everything you need at the highest standard. Good bed with orthopedic mattress. Morning a bit noisy but early morning & evening you have great views over the cocos trees and noise of the ocean. Thanks to Thilan and his team for great service.
Diese Unterkunft war die letzte für meine Freundin und mich, bevor es wieder nach Hause ging. Da wir die ganze Reise über eher etwas einfacher übernachtet haben, wollten wir uns zum Abschluss nochmal eine richtig schöne Unterkunft gönnen. Diese Unterkunft hat sämtliche Erwartungen übertroffen. Alles ist perfekt. Die Appartements sind riesig, sind wunderschön eingerichtet und am liebsten hätte ich den ganzen Tag unter der Dusche gestanden (lasst euch überraschen). 🙂 Der Ort ist fußläufig sehr gut zu erreichen, schon ist man mitten im Geschehen. In der Unterkunft kann man aber herrlich die Ruhe genießen, insbesondere auf der riesengroßen Terrasse Vielen Dank lieber Thilan für diese zwei schönen Tage
This accommodation was the last one for my girlfriend and me before I went home. Since we spent the whole trip a bit easier, we wanted to treat ourselves to a really nice place to stay. This property has exceeded all expectations. Everything is perfect. The apartments are huge, are beautifully decorated and I would have loved to have been in the shower all day (be surprised). 🙂 The place is very easy to reach on foot, you are right in the middle of the action. In the accommodation you can enjoy the peace, especially on the huge terrace. Thank you very much Thilan for these two nice days
This is a fantastic apartment A little bit away from the hubbub if Hikkaduwa beach but close enough to get to in a 5-minute tuk-tuk. Perfect if you want the beach a peace. Really well designed and fully kitted out. Great host and really cannot recommend it highly enough. Definite 5-star listing
Was soll ich sagen?! Die Unterkunft von Thilan ist der Wahnsinn! So wunderschön, stilvoll eingerichtet, dass man am liebsten den ganzen Tag in der Wohnung bleiben möchte… In der Wohnung fehlt es an nichts, es ist an alles gedacht worden vom Föhn, zur komplett ausgestatteten Küchen bis hin zum Trockner- wahrer Luxus! Thilan hat uns tolle Tipps und Hotspots genannt die man besuchen sollte und wir wurden nicht enttäuscht! Wenn wir wieder nach Sri Lanka reisen, werden wir zu 100% wieder bei Thilan ein Apt buchen. Vielen Dank lieber Thilan
What can I say?! The accommodation of Thilan is amazing! So beautiful, stylishly furnished that you would like to stay in the apartment all day long … Nothing is missing in the apartment, everything has been thought of from the hair dryer to the fully equipped kitchen to the dryer – true luxury! Thilan gave us great tips and hot spots to visit and we were not disappointed! When we travel back to Sri Lanka we will book an apt 100% again with Thilan. Many thanks dear Thilan.
Thilan is an Airbnb Plus Host
Every Airbnb Plus host is well-reviewed because they're welcoming and take care of all the essentials that create memorable stays.
Nalagasdeniya, Hikkaduwa, Sri Lanka
reservations@hikkahillloft.com